Poetry as inspiration


The argentinian guitar player and composer Máximo Diego Pujol wrote 2003 "Cinco Oliverianas" for guitar and string quartet. Each piece is inspired in a poem by Oliverio Girondo and carries its title.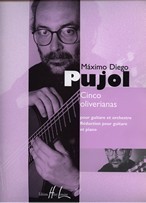 With the string-orchestra "Spandauer Stadtstreicher" conducted by Matthias Bender we made 2011 the german first audition of this work. I post hier short video clips of the five pieces together with quotations from the inspiring poems of Girondo.



Milonga

"Sobre las mesas, botellas decapitadas de "champagne" con corbatas blancas de payaso, baldes de níquel que trasuntan enflaquecidos brazos y espaldas de "cocottes".(quoted from Milonga by Oliverio Girondo, Buenos Aires 1921)






Top /




Nocturno

"Hora en que los muebles viejos aprovechan para sacarse las mentiras, y en que las cañerías tienen gritos estrangulados, como si se asfixiaran dentro de las paredes." (excerpt from Nocturno by Oliverio Girondo, Buenos Aires 1921)






Top /




Pedestre

"En el fondo de la calle, un edificio público aspira el mal olor de la ciudad." (from Pedestre by Oliverio Girondo, Buenos Aires 1921)






Top /



Plaza

"La vida aquí es urbana y es simple." (from Plaza by Oliverio Girondo, Buenos Aires 1921)






Top /




Corso

"La banda de música le chasquea el lomo para que siga dando vueltas..." (from Corso by Oliverio Girondo, Buenos Aires 1921)






Top /